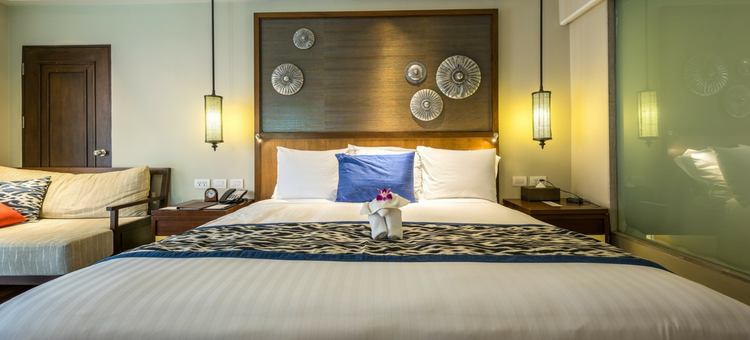 There's no place like home. But a hotel stay should be the next best thing. That's why the hospitality industry is embracing hotel room technology that adds comfort, convenience, and fun to every guest visit. From Amazon's Alexa to hotel tablets, see the top hotel tech for 2018…
1) Try a Bright Idea: Smart Hotel Lighting
Getting up at night in a strange hotel room can be, well, strange. You don't know where you are – let alone where to find a light switch.
That's where smart lighting comes in. AccorHotels just debuted their Smart Room, complete with motion-sensing lights running beneath each bed – and throughout the room.
Hotel room technology isn't just about functionality. It can be fun, too. Hotels are exploring ways to use the new Phillips Hue App that syncs a guest's music with the room's lighting.
2) Put Fun within Reach with Hotel Tablets
Hotel tablets let guests get social – and get their game on – without leaving their room. Guests can compete in real-time trivia competitions – across the room, or across the nation.
With nationally scheduled trivia available 15 hours a day, 7 days a week, friendly competition is just a tap away on hotel tablets. Or, guests can play 24/7 in the digital arcade on these hotel tablets. Hotel tablets can also be used as scoring devices in live trivia events held in your lobby or conference rooms.
3) Let the Binge Watching Continue with Smart TVs
What are guests to do when business travel calls…but they're in the middle of Netflix's Stranger Things?
At most Marriot hotels today, guests can simply log into their Netflix account and stream the show on an Internet-connected smart TV. Because let's be honest: Watching shows on a laptop just doesn't cut it.
Go a step further with even smarter TVs. Hotel tablets include hotel room tech that turns your TVs ("smart" or otherwise) into customizable digital signage.
You can use the digital signage on your TVs and hotel tablets to keep guests informed of hotel events, special offers, and even create a warm welcome message.
4) Unlock Convenience: App-Controlled Doors and Digital "Do Not Disturb"
Picture this. Guests are playing games on hotel tablets or watching Netflix in their room. There's a knock at the door: room service has arrived.
Instead of getting up, the latest hotel technology lets them unlock the door – from their smartphone. It's just one perk of downloading the Hilton Honors App and other similar apps at hotels worldwide.
Or, if guests are fully immersed in games on hotel tablets? Instead of hanging a "do not disturb sign," venues like Mr. C. Seaport in Lower Manhattan let guests digitally alert hotel staff of their room status.
5) Upgrade the Room Service Experience with Hotel Tablets
Want to increase your room service sales while freeing up phone lines?
Take a cue from the foodservice industry, where online ordering – instead of a good old-fashioned call – is on the rise. A recent study by Fast Casual found that 93% of guests ordering takeout for a group would rather place an online order than call.
The same hotel tablets that entertain guests, can also function as a digital menu, order, and payment system.
Guests can browse a digital version of your menu on the hotel tablets. Once they've made their selections, orders can be sent straight to your kitchen. The best hotel tablets with menu and order capabilities integrate directly with your POS.
6) Offer Free Wi-Fi 2.0
Hotel wi-fi has earned a bad rap: from sloth-like slowness to vulnerability to hackers. It's not just an annoyance to guests, it can hurt your hotel business.
Studies show that after a poor hotel wireless experience, 83% of guests post a bad review of the hotel online – and 36% never return. Ouch.
Be proactive and invest in a wi-fi upgrade. Hire an IT company to secure your network and install wireless access points in the right places to ensure strong signals.
You can also turn to a 3rd party gateway service like Ruckus Wireless or Yelp Wi-Fi. To access your free wi-fi on their smartphone, laptop, or hotel tablets, guests must share their email or follow your hotel on social media. So yes, you're giving away wi-fi – but you get something valuable in return.
7) "Alexa, Open the Curtains"
Today, Amazon's Alexa is in 10% of American households. She's also in a handful of tech-forward hotel properties like the upscale Wynn Las Vegas. There, Alexa can open the curtains, turn on the TV, dim the lights, or adjust the temperature – all by voice command.
Using Amazon's business tools, developers can program Alexa to perform skills unique to each hotel – including yours. Like hotel tablets, Alexa can also be programmed to take room service orders. Best Western is even testing out Alexa as a tool for housekeeping staff. Staff can verbally report when the room is clean, and if any maintenance is required.
8) Engineer a Better Night's Sleep
Wyndham is going all out to ensure guests catch quality Zzz's. In May 2018, the hotel chained launched the Stay Well room, engineered to promote a good night's sleep.
The room features 6 types of snooze-inducing hotel room technology: from a digital guided meditation by Deepak Chopra, to lighting that syncs up with your Circadian rhythm.
After an adrenaline-pumping round of games on hotel tablets, guests can unwind by turning on an aromatherapy device that emits a relaxing scent.
To help your guests sleep soundly, turn to hotel tech used in the Stay Well concept. Start with dawn-simulating alarm clocks. Instead of that alarming (pun intended) "beep, beep, beep," guests are awakened by gradually increasing light.
Hotel room technology – from smart lighting to hotel tablets – can enhance every guest's stay. But it also gives them something to talk about, promoting your hotel through word of mouth and social media posts. So now is the time to upgrade your rooms with the latest hotel room technology. Because the future has already arrived.