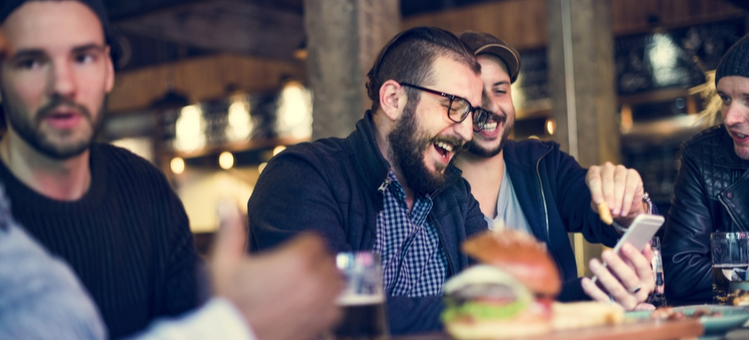 You've spent countless hours crafting the perfect brew. Now, add some notes of fun to your taproom atmosphere with brewery tablets. From digital shout outs to a little friendly competition, check out 9 ways you can tap into brewery tablets for your business.
Turn Up the Social Scene in Your Taproom
Guests are looking for more than a chance to sample and snack when they make it to your taproom. According to AT&T and Technomic study, 70% of consumers view drinking and dining out as an opportunity for entertainment. And with games on tap with brewery tablets, it's never been easier to craft a night of fun.
Trivia on Demand
Imagine your taproom filled with loud conversation and people coming together to taste your latest brews. Groups of strangers are now as familiar as friends, discussing current events, history, and even random details like the exact length of the Nile River.
That's the power of trivia on brewery tablets.
With brewery tablets that offer on-demand trivia, you get built-in fun for your guest experience. Questions across a wide range of topics with varying levels of difficulty can easily spark conversations among everyone who plays. And with games streaming all day, every day, you can strike up a friendly competition at any time.
Live Events at Your Fingertips
Some brewery tablets also give you the technology to take traditional bar pastimes into the future. For example, live trivia events are popular events that you can easily bring into the taproom with the right brewery tablets.
Just grab one of your brewery tablets and pull up an on-demand live trivia game. Your host controls the pace of the game and the tablets will automatically track the answers and scores so you can focus on what's most important – your guests having fun.
Put Your Cards on the (Virtual) Table
Poker has a long tradition of being played with cold brews, so why not pair some of your most popular craft beers with a game of Texas Hold 'Em on brewery tablets?
Your players can log in and the digital game will track their cards and scores. No worries about playing 52 pick-up…
Arcade Gallery on Tap
Think that brewery tablets are tapped out on fun with trivia and card games? Not even close…
With a full gallery of arcade-style games, your guests have even more of an incentive to stick around and sip more brews. And given the family-friendly atmosphere of most breweries, brewery tablets filled with games are a great way for kids to have fun while their parents enjoy a well-deserved pint.
[fl_builder_insert_layout slug="whitepaper-signup-module-golden-book-of-upselling"]
Craft the Perfect Marketing Strategy
Brewery tablets offer more than fun and games, they also provide additional functions to help boost your business. While your guests are being entertained, your brewery tablets are also hard at work to help you spread your message…both in and out of the taproom.
Digital Signage
Screens are prime real estate in the brewery business, whether they're mounted behind your bar or easily viewed on your brewery tablets. So why not put that space to work with digital signage?
Advertise your latest brew for bigger sales: Digital signage is eye-catching, and the visual images can do more for your sales than a static display. According to a Nielson study, items featured on digital signage at the point of purchase saw a 33% increase in sales.
Put your customers front-and-center with an on-screen shoutout: Who doesn't love seeing their name in lights? Show your patrons how much you care with a digital signage advertisement set to run on your brewery tablets and TV screens. It could be a flashy way to congratulate winners of your latest trivia tournament, a sincere thank you to your patrons, or even part of your brewery birthday package.
Spread the word about other local businesses: Want to boost awareness for local businesses while earning a little extra cash? Digital signage gives you the space to rent out advertisements on your TV screens and brewery tablets.
Email Marketing
Email marketing is an effective way to engage customers outside of your business and to entice them into coming back for more. Not sure how to get started or don't have time to set up your own campaign? Then let the brewery tablets do the work for you.
Brewery tablets provide an opportunity to capture users' contact information, organically building an email list of your core audience…customers who already love your business. Then, some services for tablets will follow up with expert marketing campaigns to invite customers to join in different promotions at your brewery.
Master the Ultimate Guest Experience
If you're looking to build a customer experience as smooth as your brew, look no further than brewery tablets. Some POS systems on brewery tablets offer your guests the ability to view the menu, order, and pay. And tablets can help with operations – 95% of restauranteurs agree that tech solutions improve their business efficiency.
The Natural Upsell
Paper menus are great. But if you have a wide selection of brews, then the limited space may not be doing your beer list justice. With digital menus on brewery tablets, you can capture every subtle note of your most popular brews with a clear description of each beer. Not only can it help customers find the best pairing for their palate, but it can also help your sales.
According to a Samsung Insights report, premium wine sales increased by 15-20% in venues that used digital menus. Customers could learn more about savory details of each wine to make their decision and feel better about springing for the more expensive bottles. Now imagine what that technology could do for your brews!
Easy Ordering
Don't let wait times kill your buzz – some brewery tablets allow guests to flag their servers or place their orders right at the table. Their order is sent directly to the kitchen or bar so you can whip up the next flight, pronto.
It saves time for your staff and provides a smoother experience for your guests – which means they may be inclined to order more. According to Modern Restaurant Management, the average check size for guests that used digital ordering on tablets was 30% higher than traditional paper menus. Cheers to that!
Secure Payment
Tableside payment is a growing trend in the food and beverage industry, mostly due to its high demand – 79% of patrons would like to see it offered at bars and restaurants.
Accommodate your guests with the option to pay on their brewery tablets. They can close out and leave at their convenience, ensuring that their experience ends on a high note.
Breweries have been around for centuries, but brewery tablets could be just what you need to craft the perfect experience for your guests. By pairing traditional practices with new technology, brewery tablets can put the 'fun' in functionality.