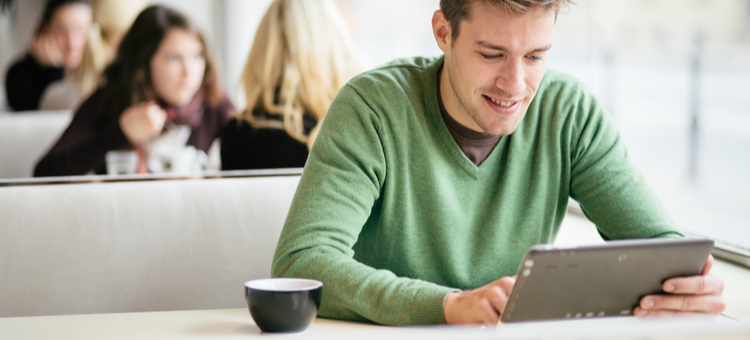 A digital revolution is underway in the restaurant business. And touchscreen ordering is on the front lines. Customers are looking for restaurants that put their needs first. Today, that means a tech-forward experience that's convenient, personalized, and fun. Touchscreen ordering puts it all within reach.
Q) Ok, so what exactly is touchscreen ordering?
A) In a nutshell, guests place food or drink orders on tablet menus or kiosks.
Think of touchscreen ordering as a guest-facing POS system. Customers browse a digital version of your menu, then place their own orders. Their selections are sent straight to the kitchen and instantly synced with the venue's actual POS system. Some ordering devices even allow guests to pay on the device using their credit card or smartphone (known as NFC or mobile payment).
Q) What kinds of bars and restaurants use touchscreen ordering?
A) From fast casual to fine dining, chains to independents everyone is getting in on it.
Been in a Panera lately? You may have noticed self-serve kiosks near the entrance. Guests can place orders and even pay – skipping the line. While kiosks are best for quick-service operations, tablet menus are more versatile. You'll find tablet menus everywhere from fine dining restaurants to sports bars.
Buffalo Wild Wings is another restaurant that has embraced digital dining. In early 2018, B-Dubs locations took touchscreen ordering…tableside. Guests can browse a digital menu, place orders, and even pay – all on tablet menus.
Big chains aren't the only ones getting in on the touchscreen ordering trend. Independents are going all in for tablet menus and kiosks, too.
Q) Is touchscreen ordering just a fad?
A) The self-order market has tripled…since 2017.
If you made it to the 2018 National Restaurant Association Show in Chicago this May, you already know the answer. Self-order systems dominated the NRA show floor. In 2017, there were just 12 types of touchscreen ordering systems. That number nearly tripled in 2018. From tablet menus to kiosks, it was all touchscreen everything. Today, companies like UEAT are making it easy, fast, and affordable to integrate touchscreen ordering into your existing website or app.
Q) So bar and restaurant managers are excited, what about customers?
A) 73% want restaurant tech at that fingertips.
Toast POS surveyed over 1,200 diners in 2017 to discover that 73% believe that technology – like touchscreen ordering – improves their restaurant visit. And the National Restaurant Association found that 79% of customers believe it makes their experience more convenient.
Q) Won't touchscreen ordering make the guest visit less personal and more…robotic? Be honest, is this a robot takeover?
A) The opposite is true. Here are 4 reasons why:
Build the Bond
In a limited or full-service restaurant, servers can spend less time taking orders and running to the kitchen – and focus on chatting and bonding with guests.
Instant Gratification
Tablet menus are meant to stay at the table. A large group that didn't order enough appetizers can use touchscreen ordering to instantly request more apps – no waiting for the server. Another round of drinks is always within reach. It's all about giving guests what they want…when they want it.
Build Your "Dream Meal"
Another way to think of menu tablets and kiosks? As customization machines. Guests can get creative and build out their dream burger with touchscreen ordering. Personalization is especially important to millennials: 54% are more loyal to businesses that allow them to create "something unique to me."
Cater to Dietary Preferences
From gluten-free to vegan, paleo to keto, customers following special dietary lifestyles love touchscreen ordering. Some tablet menus can be set to show various versions of menu items – like a pizza made with gluten-free grust.
Q) How will touchscreen ordering benefit my bottom line? Gimme the numbers.
A) Sure. How about increasing check averages by 30%?
Modern Restaurant Management just did a deep dive article on touchscreen ordering. Their research uncovered case studies at quick-service restaurants like McDonald's. When guests used digital ordering, their average check size was 30% larger. Over at Taco Bell, check averages increased by 20%.
One of the primary reasons for the bottom line boost? Most kiosks and tablet menus include menu prompts that suggest extras. For example, if guests select the Caesar salad on tablet menus, a pop up could appear: want to add chicken for $5?
Of course, your servers know how to upsell. But even your best server can't read off every available add-on – for each menu item. Think of touchscreen ordering as upselling on autopilot.
Q) What about benefits to my overall business model?
A) Faster table turn, lower labor costs, and more good stuff.
Shake Shack CEO Randy Garutti believes consumer demand for convenience is behind the rise in touchscreen ordering. That's why 6 "Shacks" are currently testing self-order systems. On June 13, 2018, Shake Stack presented at the William Blair Growth Stock Conference and outlined 3 key benefits of touchscreen ordering:
Enhancing the guest experience
Improving speed of service
Providing an opportunity to offset labor costs
Well said, Shake Shack. Let's add one more benefit.
For full-service restaurants, touchscreen ordering on tablet menus can turn tables faster. When guests set the pace of their meal, they naturally move things along.
Q) Will my servers get on board with this new tech? What about tipping?
A) Pre-set tips for the win…
Touchscreen ordering makes life easier for servers. For example, tablet menus offer group cart functionality. Because we all know bill splitting is a headache for waitstaff – and customers.
As for tips, kiosks and tablet menus let you program 3 pre-set tip amounts. Why not set 20, 22, and 25% tip options? Of course, guests can also type in their own amount but it's tempting to just click on that pre-set amount.
Q) What should I know about payment on tablet menus and kiosks? Is it secure?
A) It's even more secure than conventional payment.
Let's hope this never happens to you: an employee is caught writing down a guest's credit card number. With touchscreen ordering and payment, the credit card never leaves the guest's hands. Most tablet menus and kiosks are PCI-compliant and feature chip card readers.
Q) Anything else I need to know about touchscreen ordering?
A) Yes! At this point, your best bet is to contact companies directly.
While there are dozens of kiosk brands, only a handful of companies specialize in touchscreen ordering on tablet menus. Interested in learning more about tablet menus? Click here for a demo.
Now is the time to explore touchscreen ordering for your business. Get ahead of the competition by giving guests the digitally enhanced dining experience they crave.
[fl_builder_insert_layout slug="whitepaper-signup-module-50-best"]