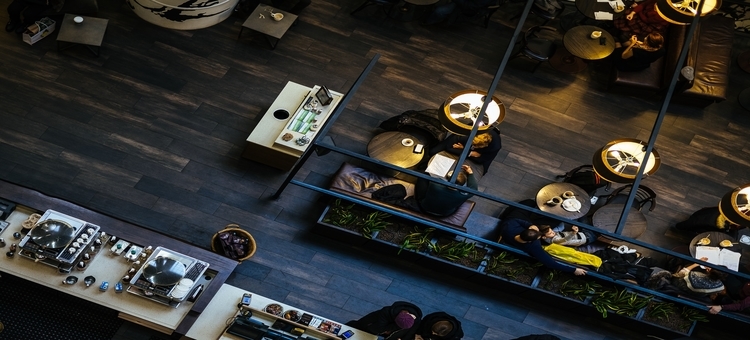 For many restaurants, marketing is a tough area to focus on. Day-to-day operations and employee management take priority over making sure you have  advertisements online.
But if you're not taking the right steps to improve your restaurant's marketing, your business could suffer..
There are so many great ways to improve marketing for your restaurant, but offering swag is one of the best. It gives your customers a memory of their experience, and brings  additional revenue into your restaurant.
But plenty of restaurants looking to launch  swag are at a loss as to where to begin.
So let's take a look at some great ways to plan out your restaurant's swag.
Look for sponsorship or promotional opportunities
Be on the lookout for organizations to sponsor, such as local sports teams or charities. These kinds of organizations can always use merchandise that offers  your restaurant a great shot at unconventional marketing.
For instance, Bonfire's t-shirt fundraising method is a great way to have your restaurant and a local charity combine forces to promote both your business and a great cause.
Don't forget that when you're checking out potential promotional or sponsorship opportunities, you can attempt to:
Throw your own promotional events.

Throwing an event like a trivia night helps stir local interest in your restaurant. It also gives you a great chance to sell custom swag to all the attendees.

Contact local organizations.

Reach out to local charities or sports teams and see if they need a sponsor. You can use your swag not only to help their organization but to get the word out about your restaurant. It's a beneficial situation for each of you. .

Host events for organizations.

Plenty of organizations need a helping hand in finding a place to host their auction or banquet night. Offering up use of your restaurant's space is a great way to get potential customers for your swag. Cooperating with local organizations like this is

a proven way

to promote your restaurant effectively.
Remember these ideas when you're introducing  your restaurant's swag. You might be missing out on a good number of promotional opportunities for your restaurant!

Investigate your restaurant's look
Take time to consider your restaurant's brand and how you want it to be represented through your swag.
This merchandise pre-planning will affect any kind of merchandise choices you make in the future.
If you're at a loss about how to change your restaurant's branding, don't worry. There are some easy steps you can take to get going.
Know your audience. Take the time to understand your restaurant's demographic and how it affects your branding process. This will come in handy throughout the swag-creation process, but is especially important when you're thinking about your restaurant's brand. Understand your restaurant's strengths. Does your restaurant provide your customers a great place to go on a date, or is it a destination  for the whole family? Understanding what customers appreciate about your restaurant is part of deciding what kind of swag you want your restaurant to offer.
Choose how to best represent your restaurant. Factor in all the previous information you've collected when deciding how you want your restaurant's look and brand to go. This decision reaches every element of the restaurant, including your swag. Even the signs your restaurant uses affect its look.
Keep these suggestions around when you're taking the first shot at revitalizing your restaurant's swag or branding, as they can be a great help.
Pick the right items
Having the right kind of swag makes all the difference when it comes to restaurant merchandise.
Make sure you have a set strategy for the kinds of objects you plan to offer that will help your restaurant's marketing.
If you're at a loss about what items to pick for your restaurant's swag collection, keep these ideas in mind.
Choose a signature item. It's always good to have a memorable item that customers love. It creates a positive association with your restaurant's brand and helps you build a catchy identity for your business. Try using a special design for this item, too. Anything from a candle to a coffee mug can be used.
Offer a variety of choices. Even with a signature item in place, having a wide variety of items for your customers will be much appreciated. This becomes even more relevant when you want your restaurant to attract a wide demographic of customers, like families or couples.
Try unconventional choices. Thinking outside the box is a fantastic way to set your restaurant apart from the pack. Throwing in a sense of humor or a unique flavor into your swag helps customers remember their experience and lets them feel more connected to your restaurant's atmosphere.
Try these tips when you need some help in setting up the right selection of items to offer for your restaurant's merch selection.
If you're still in trouble, Bonfire's guide to swag bag ideas is a great start to finding the right items your restaurant could offer.
Get your staff on board
Letting your staff in on your swag plans is important to putting your restaurant's merchandise out into the world. You'll find that having and promoting your restaurant's swag is much easier when your staff is on board.
It's important to have your staff oriented towards your restaurant's marketing goals.
There are some excellent ways you can help get your staff involved in the swag-creation process.
Give your staff free swag. Letting your staff use your swag helps spread the word about your restaurant's merchandise. It also creates a great relationship between the staff and the management, which can be extremely useful when you're trying to help create a positive impression of your restaurant in a local community.
Train your servers to plug your merchandise. Coaching your staff to look for opportunities to sell swag is a fundamental part of offering swag in your restaurant. Some customers will respond very positively to this kind of professionalism and it will reflect positively on your restaurant.
Get feedback from your staff. Your staff is a great window into understanding what swag works and what swag doesn't. Tap into your human resources side and get feedback from your staff on the kinds of merchandise they find exciting or useful, as it will give you some great ideas to get started.
These are some helpful ideas to use when you're in need of some staff motivation, especially when it comes to promoting the use of your restaurant's swag.
Bring the focus back to your swag
You might be running a restaurant, but when you have swag to sell, you want to concentrate on that as a marketing and promotional opportunity for your business. So make sure your restaurant's plan is not only to provide a great experience for your customers, but also to try and sell swag to your customers. .
Using social media can really help you out in this case. If you picked your brand correctly, you shouldn't have a problem using swag to stand out on online social networks.
Remember that when you're trying to make your customers to take another look at your swag, you can take an opportunity to:
Offer swag based on holidays or seasons. Any holiday, including St. Patrick's day, is an opportunity to sell specially designed swag. Offering these kinds of limited edition designs  makes your customers excited to see what your restaurant is going to come out with next.
Align your swag with your restaurant's atmosphere. Make sure that the kind of merchandise you're offering is in tune with the kind of atmosphere you want to set in your restaurant. You wouldn't necessarily offer beer cozies in a romantic, upscale restaurant , for example.
Create a merchandise page online. Having an online tool to help sell your swag gives you a whole other market for your merchandise. Take advantage of your restaurant's online presence and brand and offer your swag online.
Using these methods will help out your restaurant's marketing strategy by letting the swag work for you. Not to mention how much your customers will appreciate the opportunity to show their love!
Taking the time to understand how your restaurant's swag can improve your marketing is all a part of the process of running a restaurant. The good news is that because you've put in the effort to improve the marketing side of your restaurant, the rest of your business will see an improvement too.
So as you're designing your restaurant's excellent collection of swag, use these tips to make sure your restaurant is offering the best merchandise it can.
Kevin Penney is the Chief Marketing Officer and co-founder of Bonfire.com, an online platform that's reinventing how people create, sell and purchase custom apparel. He loves solving difficult problems, working closely with the Bonfire Product team, and hockey. He has over 10 years experience in digital media, design, and technology
[fl_builder_insert_layout slug="whitepaper-signup-module-33-customer-loyalty"]