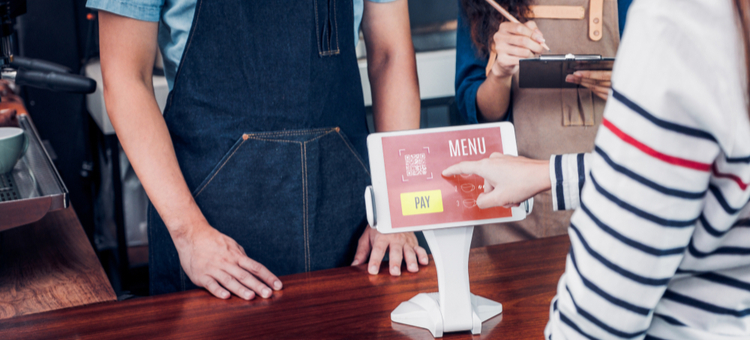 Hop into the restaurant time machine for a trip to 2025. Your mission? To see what restaurants of tomorrow are up to. After visiting the future, you'll return to the present with a better understanding of which types of restaurant tech to implement at your business…right now. From restaurant kiosks to drone delivery, AI-powered inventory to 3D menus, the future is now.
Prediction #1: Self-Ordering Restaurant Kiosks and Tablets Solve Major Challenges in Foodservice
It's 2025. Almost every state has significantly raised the minimum wage for both regular and tipped employees. As predicted back in 2019, 75% of full-service restaurants have now reduced employee hours – and 87% have increased menu prices. Many restaurants have closed, but the ones standing strong have adapted tech like restaurant kiosks and tablets to overcome rising labor costs.
In the future, some restaurants – mainly quick-service operations – will likely run without any humans. However, all signs point to a less dystopian picture for limited- and full-service restaurants.
In 2025, we predict that restaurant kiosks and self-ordering tablets will help owners accomplish more with fewer employees. In fact, the future has already arrived at the thousands of businesses already experiencing the benefits of restaurant kiosks. Here's how it works…
Instead of a paper menu, customers use a touchscreen tablet or restaurant kiosk mounted to the table to select their options. In most cases, an actual waiter takes initial orders from guests. Then, guests use the restaurant kiosks to place instant reorders like extra drinks or apps – all without waiting for the server.
After guests wrap up their meal, the best restaurant tablet and restaurant kiosk tech lets them close, view, and then pay their bill directly on the device.
One of the key benefits of restaurant kiosks and tablets is that they empower fewer servers to cover more tables. How? By eliminating time-consuming activities that don't involve much face time with customers anyways: monitoring tables for refills, running orders to the kitchen, and processing payments at the POS.
Waitstaff are then freed up to chat, engage, and form personal connections with guests. It's proof that technology like restaurant kiosks can actually enhance the human connection…not eliminate it!
Prediction #2: Menus Come to Life with 3D Images and Holograms
You're at a restaurant, and seriously craving a burger. Using a restaurant kiosk menu at the table, you build out your "dream burger" by selecting from dozens of on-screen options (grilled onions and jalapenos? Why not? Extra cheese? Yes please). You click a button, and a 3D image of your creation is projected right onto the table.
Spoiler alert: 3D menus are already on the scene, bringing new meaning to food that looks good enough to eat. New York chain Bareburger recently launched a campaign on Snapchat that let customers create their own 3D Bareburger on their smartphone before ordering the real thing.
There's also the Hololamp device, a somewhat bulky contraption that projects holographic images of menu items to guests at the table.
Until 3D menu tech becomes more refined – which we expect to happen by 2025 – you can still bring your menu to life today with restaurant kiosks and tablets. In a few clicks, it's easy to upload vivid photos of your menu items along with lengthier descriptions which are proven to increase sales.
[fl_builder_insert_layout slug="whitepaper-signup-module-top-ten-pos"]
Prediction #3: Hyper-Personalized Dining Goes Face First
You walk into a restaurant you visited a year ago. The hostess greets you by name, then leads you to a table by the window. Waiting for you is a restaurant kiosk or tablet menu…preloaded with suggested dishes and drinks based on what you ordered last time.
No, the hostess didn't remember your charm, wit, and good looks. She was alerted to your identity thanks to 3D facial recognition technology.
In the future, a small camera may scan everyone who enters a restaurant. Once identified, the person's dining time, duration, choice of seating, and purchases would be used to create a customer profile. When the patron returned? That information would be used to auto-generate recommendations on a restaurant kiosk or tablet menu.
Research by Oracle found that 46% of today's restaurant operators believe facial recognition tech will be mainstream by 2025. The research also revealed that 49% of guests believe this tech would improve their restaurant visit – and 31% would even visit more often. Survey respondents said they'd like to be recognized without having to give their name or show a loyalty card or app.
Currently, facial recognition tech (also known as biometrics) is already in use for "official" reasons only. Smartphone users can unlock their iPhone or Samsung Galaxy by looking at their device. Law enforcement – and even retail stores – are deploying facial recognition to identify criminals. Experts predict that it's only a matter of time before 3D facial recognition is applied to creating a more customized restaurant experience. Perhaps guests could just present their face to a restaurant kiosk or tablet and a custom menu would appear.
But we're getting ahead of ourselves. Currently, facial recognition in the retail and hospitality world is controversial, mainly because consumers can't give permission for its use. Until companies solve that issue, biometrics for guest personalization on restaurant kiosks – or anywhere for that matter – remains a futuristic concept.
Prediction #4: Mobile Payment Becomes Mainstream
In 2025, people don't have to worry about leaving their wallets at home. That's because almost every restaurant and retailer now accepts mobile payments. Consumers just whip out their smartphone, scan it in front of a mobile POS device and boom…payment accepted.
Like restaurant kiosks and tablets, mobile payment is already here. In fact, some of those self-serve devices can even process mobile payments.
So, what exactly is mobile payment? It's when a customer uses an app – like Samsung or Apple Pay – on their smartphone to make a payment. To do this, the retailer or restaurant needs to have a device equipped to communicate with the customer's payment app.
That's where restaurant kiosks and tablets come in. A few companies are ahead of the curve, and have integrated near field communication (NFC) readers into their restaurant kiosks and tablets. Customers can wave their smartphone near the kiosk or tablet, and the payment is securely completed. NFC transactions are fully encrypted, so they're PCI compliant…no worries there.
But do customers really want to make mobile payments on restaurant kiosks and tablets? Yes. A January 2019 study by TSYS found 79% of today's customers want restaurants to offer tableside payment. And by 2025, that demand should be much higher…
Prediction #5: Drone-to-Doorstep Delivery
Ding! You just got an alert on your smartphone. Your restaurant meal has been delivered to your doorstep…by a drone.
While there are dozens of drone pilot projects (pun intended) in the works, the skies aren't drone-friendly…yet. But it's only a matter of time. Case in point: FedEx has teamed up with Pizza Hut to develop a pizza delivery service. We hope it's called Pie in the Sky, but that's up to their R&D team.
As a restaurant owner, you may even be able to rush order deliveries via drone. Imagine: you ran out of a key spice for your signature soup. Instead of running to the store, a drone drops it off within minutes. Or, if you have restaurant kiosks and tablets and one requires a new part? Presto, a drone brings the part for repair….ASAP.
Once drone delivery goes mainstream, it may take a while for the functionality to be available – and affordable – for smaller chains and independent restaurants. However, many futurists anticipate that we'll all be looking up to see drones overhead within 10-20 years.
It's normal to be skeptical of new technology. Will it help, or hurt, my business? Will it dehumanize my restaurant? While a little healthy fear is a good thing, you can't ignore the digital revolution that's underway in the world – and in the restaurant business.
Our best advice is to start slow. Try to integrate proven, advanced technology that's available today: from restaurant kiosks to mobile payment. You may be surprised to see positive results, and signs of a more profitable future. Cheers to your success today, tomorrow…and in 2025!