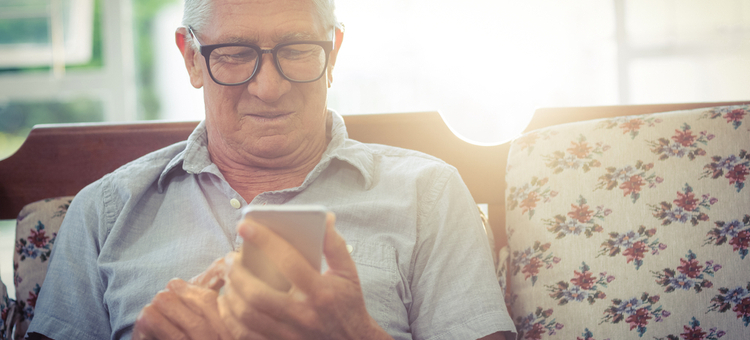 As a senior living community manager, you look for the best employees to join your team. The new year is the perfect time to bring the latest senior living technology on board, too.
Just like a star staff member, top senior living technology makes life better for residents while improving your operations. Ready to tackle new tech? Start with these 9 innovative options.
Breakthroughs in Medical Management
Advanced senior living technology can empower employees to do their best work and keep residents safe at the same time. It's a win-win.
1) Improve Response Time to Falls
According to the CDC (Centers for Disease Control and Prevention), falls are the leading cause of injury and death in older Americans. Having the right senior living technology in place can reduce injuries and increase response time to falls.
Sensatec Fall Management Solutions provides senior living technology products that integrate with your call system to alert your entire team when a fall occurs. That way, the closest staff can assist your resident…ASAP.
Unlike most alert systems, Sensatec is designed to eliminate audible alarms if the resident can recover on their own. This can cut down on false alarms which can be distressing to both the fallen senior – and other residents.
2) Medication Reminders
Allowing seniors to take their own medication gives them a sense of independence and helps ease the transition for new residents.
Senior living technology like Reminder Rosie provides reminders for medications, social events and other activities. It looks just like a regular clock, but it's packed with powerful features…
Completely voice-activated, the Reminder Rosie clock is easy to use – especially for visually impaired seniors. Reminders can even be recorded in a loved one's voice. It's proof that senior living technology isn't "cold" or impersonal. In fact, it can bring more warmth and friendliness to senior living.
3) Organize Medical Records
With multiple caregivers working with the same residents, senior living technology can help eliminate errors.
Circura, a software platform for senior living communities, allows caregivers to communicate openly, coordinate care activities, and monitor resident vitals by tracking care tasks in real time.
Now, your whole team can be on the same page while taking care of residents. Medical records and paperwork are digitized to save staff the time and hassle of sorting through files for medical details.
Circura even provides updates to families of your residents, letting them know how their loved ones are doing.
4) Empower Caregivers
For individual caregivers, a new app called CareZare streamlines the interaction of caregivers and professionals, allowing them to virtually come together to plan, schedule, and track patient care.
Although this senior living technology was designed originally for individuals, the creator, Eric Wells, states that it can still be leveraged for senior living communities. Currently, the company is working on an enterprise solution for the app.
Creating Connections for Seniors
According to a study by Indiana State University, elderly residents in senior living communities are at a greater risk for depression than those receiving care in their home.
To combat depression, many facilities turn to senior living technology to engage residents and encourage socialization.
5) Games That Build Bonds
What's a great way to spark social connections among residents? Give them digital games to play on senior-friendly touchscreen tablets.
From trivia to card games, word puzzles to racecar challenges, it's all on-demand and designed to encourage social interactions.
If you bring in senior gaming tablets, residents can even compete in real-time against others across the country with scheduled games 15 hours a day, 7 days a week. But entertainment-focused senior living technology is more than fun and games…
Nearly 3,000 venues across North America rely on Buzztime trivia and games for social entertainment, like Peggy Connelly, National Director of Life Enrichment and Memory Care at Harbor Retirement Associates:
"Buzztime has provided a unique new way for our residents and family members to bond through senior living technology and entertainment that is suitable for all ages. In addition to creating relationships, the Buzztime system exercises our residents' minds helping them to enjoy life to the fullest."
Even when seniors play solo, studies show they reap social rewards from digital games. In a 2013 study by North Carolina State University, seniors who played digital games had better social functioning and a stronger sense of wellbeing than non-gamers. Just one more reason to make digital games a priority in your senior living technology plan.
6) Family is Just a Call Away
Smartphones can be confusing, even for tech-loving millennials. For seniors? They can be downright intimidating.
Enter the Jitterbug phone by Great Call.
It's a senior-friendly phone that gives seniors the best of smartphone tech – photos, text messaging, video calls, and of course…good old-fashioned phone calls – and none of the stress.
As one of your senior living technology initiatives, offer a series of Jitterbug workshops where seniors can learn how to operate their new phone.
Imagine the delight when a grandmother can start texting with her grandchildren. The skill mastery will boost confidence, while the ability to connect with family and friends in real time will help fight depression.
7) Digital Signage
Another type of senior living technology that encourages socialization and creates connections is digital signage. This type of senior living technology turns existing TVs and screens in your facility into eye-catching "billboards."
You can use digital signage to showcase messages to your residents from their loved ones. For example, invite families to submit personal messages and a photo which can be displayed on the resident's birthday. Other residents will be reminded it is that senior's special day.
Digital signage senior living technology can also be used to:
Highlight upcoming events and activities
Provide healthy living tips
Run trivia questions
Welcome new residents
Senior Living Technology to Improve Recruitment
Senior living technology benefits more than just current residents: It can attract prospective seniors looking for a place to call home. Here's how:
8) Help Families with Decision Making
As seniors age, their loved ones struggle with tough questions: when should Grandma stop driving? Can Grandpa stay at home with daily visits from a nurse or is it time for assisted living?
If you can help with their decision-making process, your community can get on their radar.
That's the thought behind Roobrik: senior living technology that helps with recruitment in its earliest stages. Roobrik is decision-making software that can be integrated into your website, email campaign, and social media. It's even used to guide discussions during consultations with families.
"It's really about trust-building. With Roobrik, senior care providers become the 'heroes' by helping families gain clarity in times of uncertainty. Even if prospects decide they're not ready yet for senior living, you'll be top-of-mind when they are," said Roobrik founder and CEO Nate O'Keefe.
9) Live Events
Give potential residents an opportunity to see your senior living technology in action. Host a Live Trivia night using senior-friendly, handheld tablets.
Invite current residents, family members, and seniors from the community in for a night of fun and games. Not only will your residents love the social event, it's an excellent recruitment opportunity.
The right live trivia company will provide you with everything you need to run the event yourself – no (expensive) outside trivia host required. Trivia questions can even be customized to focus on certain decades.
Yes, there may be a learning curve when bringing in senior living technology to your community. But once your staff – and your residents – catch on, they'll wonder how they ever lived without it.