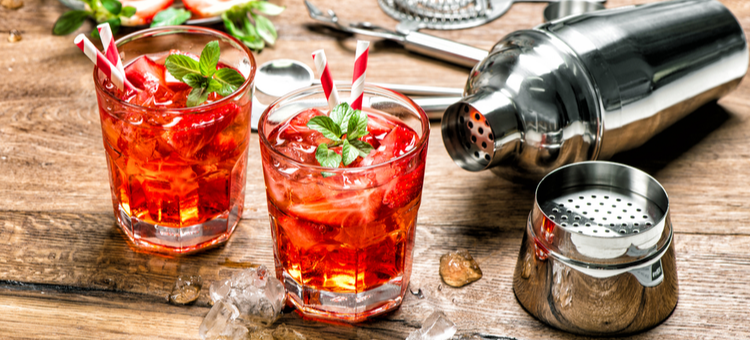 This season, give guests a reason to spring into your bar or restaurant. Just bring a little fresh air to your drink list! Use these 32 spring cocktail recipes for inspiration.
On-Trend Spring Cocktail Recipes
Get the "it" factor. Infuse the National Restaurant Association's 2018 alcohol trends into your spring cocktail recipes.
Culinary Cocktails
This year, bartenders are taking a cue from the kitchen. Trendy spring cocktail recipes feature bright green herbs and other unexpected foodie-approved ingredients.
Rosemary Blueberry Vodka Spritzer: Rosemary adds an herbaceous twist to fresh and fruity blueberry flavors.
Cucumber Infused Gin and Grapefruit Fizz: Muddle cucumber and top it with gin, grapefruit, and soda to capture springtime in a glass.
Bacon Breakfast Cocktails: Say what? Bacon in a martini? Yes, and your guests will love it. Put one of these 3 bacon-forward spring cocktail recipes on your brunch menu…ASAP.
Onsite Barrel-Aged Drinks
Barrel-aging your own drinks is a beverage trend you can easily incorporate into your spring cocktail recipes. Three-liter barrels start at $150 and can be tapped right at the bar.
Barrel-Aged Last Word: Created in the 1920s at the Detroit Athletic Club, the "Last Word" is a botanical cocktail starring gin, green chartreuse, and maraschino liqueur. This recipe calls for aging your concoction for 4 weeks.
Aged Negroni: For vermouth lovers, this classic drink delivers bittersweet citrus flavors after being aged for a month in house. It's one of the simpler spring cocktail recipes that never goes out of style.
Barrel-Aged Vieux Carré: Bring New Orleans to your bar with this famous French Quarter recipe. First created at the Hotel Monteleone's Carousel Bar, you can age the cocktail yourself to give your patrons a true taste of NOLA.
Local Ingredients
Rumbarb: Rhubarb is a versatile vegetable that adds interesting notes – and a ruby red color – to your spring cocktail recipes. This rum drink involves a house-made rhubarb simple syrup…that's truly simple to make. For fresh rhubarb, head to your local farmers market.
Housemade Vermouth: Get super local with your spring cocktail recipes: make your own vermouth.
Your Home State's Signature Cocktail (with a twist): Check out this Buzzfeed list of signature cocktails across the U.S. Pick the one from your home state and add a twist with house-made simple syrups or infused liquors.
Smell the Roses: Spring Cocktail Recipes with Floral Notes
Lillet Rose Spring Cocktail: Made with Lillet Rose and ruby red grapefruit juice, this refreshing beverage puts the "spring" in spring cocktail recipes. Add a few edible flower blossoms to make the drink really bloom.
Aviation Gin Cocktail: With a floral flavor and periwinkle hue, Crème de Violette makes this drink pure eye candy.
Elderflower Rose Gimlet: This mix of gin, rose water, and elderflower is an elegant take on the classic gimlet.
Holiday-Themed Spring Cocktail Recipes
April Fool's Day
Calling all practical jokesters! Pull a fast one on your patrons with spring cocktail recipes that trick the eye – then surprise with unexpected flavors.
Apple Fool's Martini: The green color and apple garnish say Appletini. But it's actually made with tequila, green chartreuse and basil leaves.
Chocolate Cake Shot: This clever cocktail looks like a shot of tequila, with the clear liquid, sugared (not salted!) rim and lemon wedge. But the combination of Frangelico and vanilla vodka tastes just like a piece of warm chocolate cake.
The Not Manhattan Cocktail: Who knew spring cocktail recipes could be so witty? This one look just like a Manhattan but tastes like one big apple (thanks to apple juice).
Earth Day
Raise a glass to Mother Earth with spring cocktail recipes inspired by nature.
The Green Vesper: Go green with a house-made arugula simple syrup that adds a unique flavor to this gin and vodka drink.
Deep Blue Sea Martini: Dive into this ocean-inspired martini, made with blue curacao, vodka, and pineapple juice. This is one of the most eye-catching spring cocktail recipes. Serve with a pineapple wedge.
Tequila Honey Bee: Honey has always been a popular addition to spring cocktail recipes. This smoky-sweet tequila cocktail will leave your patrons buzzing.
Easter
Brunch Punch: This refreshing punch can be made in large batches before a busy Sunday brunch. Filled with fruit juices, sparkling sodas, and fresh berry garnishes, this is one of the spring cocktail recipes sure to draw an Easter crowd.
Lavender Lillet Cocktail: Looking for sophisticated spring cocktails to pair with your Easter brunch? This sparkling lavender cocktail is a beautiful and refreshing step up from the traditional mimosa.
Raspberry Sorbet Champagne: Spring cocktail recipes that double as desserts, what could be sweeter? This celebratory cocktail involves pouring bubbly over sorbet.
Open Season: Drinks for Spring Sports
Baseball
The Boilermaker: This American take on a traditional Irish Car Bomb is one of the more casual spring cocktail recipes out there. Just pour a pint of the domestic beer of your choice – and let patrons drop in a shot of whiskey. It also tastes great as a slow sipper for fans looking to pace themselves for nine innings.
The Mickey Mantle: Celebrate the golden age of baseball with the Mickey Mantle: made with whiskey, club soda, and bitters. Best served with a side of cracker jacks.
Cooperstown Cocktail: Named for the town that houses the National Baseball Hall of Fame, this minty fresh and orange martini is the perfect recipe for an early afternoon game.
Kentucky Derby
Mint Julep: The mint julep is the traditional beverage of the Kentucky Derby, and has been for nearly a hundred years. For the most traditional mint julep, follow this recipe – straight from the horse's mouth.
Smokin' Lemon: For spring cocktail recipes that are equal parts smoky and savory, this scotch-based concoction is a sure bet. Served with a charred lemon, it evokes the high-end tailgates at the Derby.
Jockey Club: Named for the heroes of the race track, this cocktail is like a Southern version of the Manhattan. Made with bourbon, sweet vermouth, and maraschino liqueur, it'll make guests feel like winners (even if their horse loses).
March Mania
Bloody Bull: This fresh take on a Bloody Mary is a delicious way to jumpstart a day of watching those bracket-busting games!
Beer Cocktails: Surprise and delight your patrons: Craft one of these beer-infused spring cocktail recipes.
Billionaire Cocktail: Put the "mad" into basketball madness with this absinthe cocktail featuring bourbon, lemon juice, and grenadine. (P.S. Today's absinthes won't actually make you go nuts.)
Escape with Spring Cocktail Recipes: A Sip of Spring Break
Even if you're miles from the coast, make locals feel like they're at the beach with these vacation-inspired spring cocktail recipes.
Paloma: Add a taste of Mexico to your cocktail menu with the Paloma. A mixture of tequila, grapefruit juice, and lime, it's the perfect springtime sipper.
Spiced Rum Guava Green Tea Cocktail: This high-end cocktail is more jet-setter than spring breaker. To level up your drink, follow the recipe for making your own in-house Gunpowder Green Tea syrup.
After a long winter, guests are ready to shake off the winter blues and catch a little spring fever. These spring cocktail recipes will cure their cravings for a refreshing drink – and keep them coming back all season long!
[fl_builder_insert_layout slug="whitepaper-signup-module-37-trending-happy-hour-menu-ideas"]