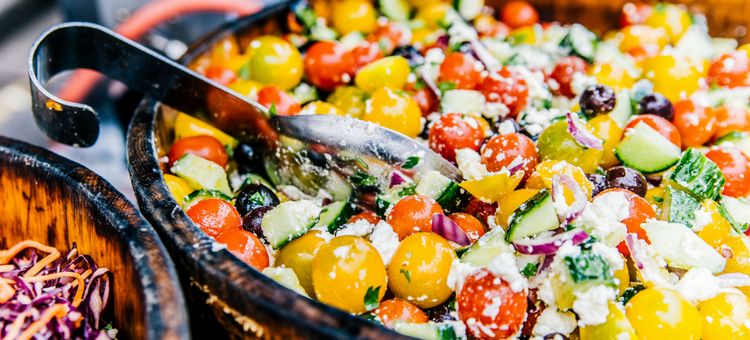 After a long winter, it's time to spring forward with an updated menu. Not sure where to begin? Start with this list of the top 5 spring menu ideas for 2019…including 2 essential trends to incorporate into your drinks list, and 3 tips to promote your new menu. Ready to hit refresh on your menu? Let's do this.
The 5 Best Spring Menu Ideas for 2019
1) Foraged Finds
From dandelion greens to morel mushrooms, fiddlehead ferns to nettles, foraged finds (also known as "wild edibles") are topping the charts of 2019 spring menu ideas. These are items you could locate in your own backyard or a nearby forest. However, for food safety reasons, don't take on foraging yourself! Instead, visit your local farmers market or check with your food distributor to see if they've got the goods.
For example, dried morel mushrooms are readily available: they cost less and keep longer than the freshly harvested variety. Dried morels still impart that earthy, savory flavor that can inspire your spring menu ideas from pasta to soups.
One of the most delicious forage-focused spring menu ideas involves the wild leek or "ramp." In early spring, ramps grow in patches throughout forests in the Midwest and Northeast. They look and taste similar to a scallion, but have a signature garlic-like funk that foodies go wild for. 
2) Hyper-Local Sourcing
The buy local trend shows no signs of stopping. Why not take things to the next level with your spring menu ideas? Go hyper local and grow produce right at your restaurant. No worries. You won't need to turn into a full-time farmer to make these spring menu ideas a reality.
Start small with a container garden or go big and take a cue from Farm.One in New York City. Farm.One set up a hydroponic system to grow microgreens in a TriBeCa basement. Alright, that may be a bit ambitious. But container gardens are simple to install and require minimal maintenance. After the first frost, place plant starts of hardy herbs like rosemary, lavendar, basil, oregano, and mint into small wooden containers outdoors. Who wouldn't want a spring mojito with fresh-cut mint from your mini garden? 
3) Tofu 2.0: Meat Alternatives (That Taste Delicious)
The meatless revolution is well underway in 2019, so embrace it already with plant-based spring menu ideas! But don't settle for frozen veggie patties from your distributor. Up your game with meatless dishes that pack serious flavor. Look to the foodie-approved Beyond Meat® line of products which "cook, look, and taste" like real meat.
Another popular meat-free menu item is the "buddha bowl." Typically topped with tahini sauce, these bowls are comprised of leafy greens, other vegetables, nutrition-forward grains like quinoa or pearled barley, and of course – a meatless alternative like sautéed tofu or beans. Check out these 14 spring menu ideas and recipes for Buddha bowls that will have guests saying omm (and yum).
Worried that only diehard vegetarians and vegans will welcome your meatless spring menu ideas? Think again. Today, 8 in 10 millennials regularly eat meatless alternatives.  
[fl_builder_insert_layout slug="whitepaper-signup-module-5-step-marketing-budget-planner"]
4) Spring Clean Your Beer List (with Lagers)
In 2018, the average craft brewer was playing mad scientist and pushing the limits of palatability: Can we make this IPA even hoppier, juicier, and hazier? Could our sour beer get even funkier with a new bacteria strain? (Sour beer gets its signature flavor from microscopic bugs and wild yeast…yum.)
Now it seems that brewers are going full Marie Kondo and decluttering their beers. For 2019, spring menu ideas for beer lists should prioritize the beautiful simplicity of well-brewed, classic lagers. Offer a mix of tried-and-true domestic lagers like PBR and Bud Light, but also mix in lager selections from local craft breweries.
5) Mocktails are Serious Business in 2019
Chances are, you know someone who gave up booze during "Dry January." Dry January is a big deal in Britain, where nearly half of the population swears off alcohol (or attempts to) for the month. That ethos of moderation has made its way across the pond, where many Americans are cutting back on booze in January – and beyond. That may explain the rise of the mocktail, a must when planning your spring menu ideas.
Hotels + Restaurants surveyed over 140 seasoned bartenders and found out that 80% of them plan to prioritize mocktails in 2019. It's not enough to just omit the booze in a margarita and call it a mocktail. Get creative with your mocktail-focused spring menu ideas. Look for other on-trend ingredients like kombucha (fermented tea) or house-made tonics and infusions. Of course, garnish those mocktails with herbs you grew on site…
Bonus Tips: 3 Ways to Update Your Menu Like a Pro
1) Tap Into Tablet Menus
Once you've narrowed down your spring menu ideas, it's time to update your actual menu. Yes, it can be time-consuming and costly to redesign and reprint your menu each time you change things up.
That's why many bars and restaurants are switching to restaurant tablet menus. In just a few clicks on a master template, you can change all of your tablet menus, easily add photos, and write lengthier descriptions.
2) Say No to "New"
Another pro tip for adding those spring menu ideas? Don't put the word "new" next to these spring-fresh options. A study by NPD Group found that only 30% of guests order items labeled new, fearing that they haven't been "tested" enough by guests to have earned a spot on your menu. (No one wants to be a guinea pig, right?)
3) Try a VIP Test Kitchen
Here's a great way to crowdsource your spring menu ideas – and build loyalty along the way. Invite 8-10 of your best customers to a "test kitchen" event. Let them taste some of your proposed dishes and drinks, and ask for their honest feedback before making those items official on your menu. At the same event, ask these VIP foodies for ideas of what they'd like to see on the next season's menu.
The very best spring menu ideas take inspiration from what's in season – and what's trending. While you never want to ditch your menu mainstays, a good rule of thumb is to change 20-25% of your menu at every season. That way, you're offering customers a fresh experience, and a reason to come back and try something new.