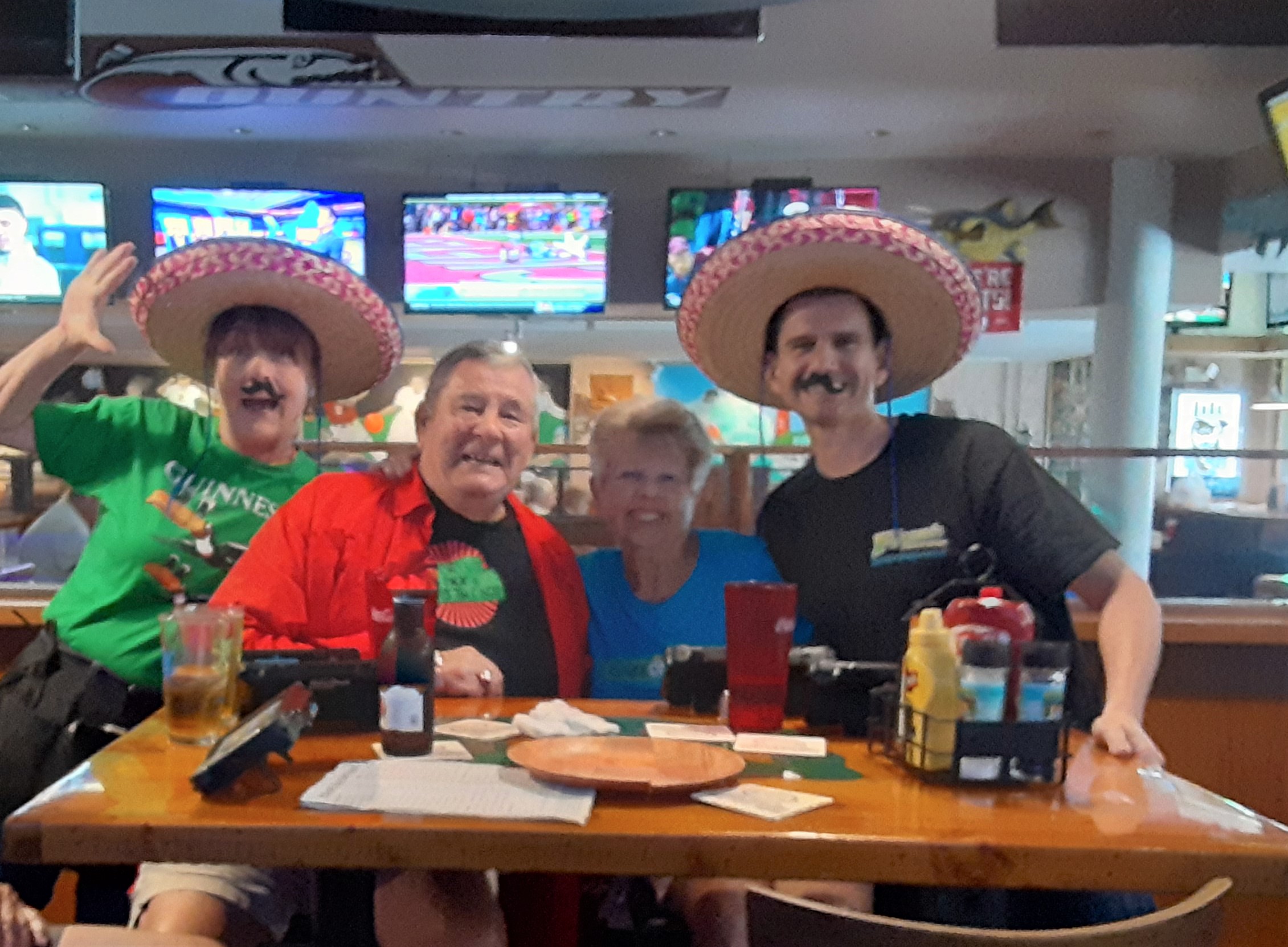 It's no secret. Live bar trivia is trending nationwide. People are getting their think (and drink) on everywhere from sports bars to college town pubs. Want in on the action? First, get the facts about trivia for bars and learn to rock your first event like a pro…without making one of these 7 rookie mistakes.
Mistake 1) Hire an Overpriced Bar Trivia Host
This mistake is first for a reason. Too many bars are blowing their budgets on expensive trivia hosts. While there are some reasonably priced trivia professionals out there, others may charge up to $400 per event. Yikes.
The reality today is that trivia for bars doesn't require an outside host. Wait, what? Yes, thousands of bars and restaurants are taking a do-it-yourself approach to running live trivia. Some go 100% DIY and write the questions themselves (although this isn't recommended, see mistake #4).
Others are using bar trivia systems that include access to 700,000+ questions, with more added daily. These systems let players submit answers using handheld tablets, instead of the old-school pen-and-paper method. That means scoring is automatic and the system is so simple that bartenders, managers, and other staff members can host a trivia night. Players can bond with your bar's staff instead of an outside host. You'll save serious cash. It's win-win trivia for bars…
Mistake 2) Host Bar Trivia on Friday Night
Another common mistake is running trivia night when the bar is already packed. Trivia for bars works best when held during a slower daypart for two reasons…
First, Friday and Saturday nights are likely your busiest nights already. Instead, use trivia to draw a crowd when business isn't so brisk like a Tuesday or Wednesday evening. For example, Beef O'Brady's in Apollo Beach launched this type of bar trivia on Tuesday evenings and increased foot traffic by 40% (and pitcher sales by 200%).
The second reason trivia for bars is typically run when it's quiet? Most players get pretty serious while competing. They'll get annoyed if they can't hear the host announce questions because the bar is crawling with patrons partying it up on a Saturday night.

Mistake 3) Tolerate Cheaters
No one likes a cheater, especially during trivia. One disgruntled player even wrote to Miss Manners complaining of a bar trivia competitor who kept sneaking off to the bathroom (likely to Google answers) during gameplay.
Hosts of trivia for bars should always set clear guidelines to prevent cheating. Some require players to drop their cellphones into a bucket. Other hosts ask guests to turn their phones to airplane mode and keep them out of sight.
Another option is to use "cheat proof" bar trivia like Opinionation. Inspired by Family Feud, Opinionation polls the nation on trending topics. Then players have to guess how America answered. The game revolves around popular opinion, so there's no way to cheat.
Mistake 4) Pull Random Trivia Off the Interwebs
Hey, I'll just use an online trivia generator to create questions and answers for my bar trivia event. Not so fast! Are you sure the answers are accurate? Are the questions too obscure? Trivia for bars needs to strike a delicate balance: Questions should be tough, but not too tough. It's a good idea to mix in popular topics with random history and science facts we all learned (but can barely remember) in high school.
The best trivia for bars runs on accurate, interesting questions. If you decide to go 100% DIY and host bar trivia yourself, be prepared to spend up to 8 hours researching questions. That's how long Quizrunners, experts in trivia for bars, claim it takes to research and write high-quality trivia. And yes, that's 8 hours for each 1-2 hour bar trivia event!
Thomas Carney, one of the most famous bar trivia hosts in New York City, ran a weekly 20-question trivia event. He used the internet for research, but always found 3 primary sources to verify each answer's accuracy.
The takeaway? There are no shortcuts when it comes to writing trivia for bars.
Mistake 5) Run a Harry Potter Bar Trivia Event
Maybe you read the entire Harry Potter series (and watched the movies), but only a handful of guests have the same wizardly obsession. Or, you're a film buff and think trivia for bars is your chance to show off your showbiz smarts. Stop. Don't make the mistake of getting too narrowly focused with your bar trivia themes.
For best results, keep the questions general. However, it's a great idea to get thematic with the overall event. Hosting trivia for bars around Halloween? Run a costume contest that rewards the best trivia team with a prize. Around Valentine's Day, run bar trivia for couples or randomly pair up singles for a matchmaking event.
Mistake 6) Award the Winning Team with a $10 Gift Card
If you were on the fence about competing in bar trivia, would the chance to win a $10 gift card – to be split with other team members – entice you? No. No, it wouldn't. Yet, we've seen trivia for bars advertised with low-budget prizes…or (gasp!) no prizes at all.
Trivia players expect great prizes, but there's no need to break the bank. Get creative. Could you partner up with local businesses? Offer to mention their business throughout the trivia event, on social media, and all other trivia event promotions. In exchange, ask the business to provide a $50 or $100 gift card.
Even if you give the winners a $50 bar tab, it's worth the expense: after all, do you really think a group of 4-6 (hungry and thirsty) trivia players will only spend $50 in one visit? Doubtful…
Other prize solutions for trivia for bars include prizes provided by an outside trivia company…at no cost to you. For example, if you bring in Buzztime Trivia, there is always an ongoing bar trivia competition. In December 2018, Buzztime put $8,000 in prize money up for grabs. This March, players will compete for a daily chance to be one of 10 cash and prize winners.
Mistake 7) Think Trivia for Bars is Only Held at Night
Last but not least, it would be a mistake – and a missed opportunity – if you only considering holding trivia "nights." Shed some light on the concept of trivia for bars with a brainiac's Sunday brunch or a lazy Saturday "afternoon delight" round of trivia. You could even host bar trivia outside on your patio or deck on a perfect sunny day.
When it comes to trivia for bars, the biggest mistake you can make is to not give it a try. Chances are, your patrons would love a chance to show off their smarts – and throw down in a round of bar trivia. So, make it happen!