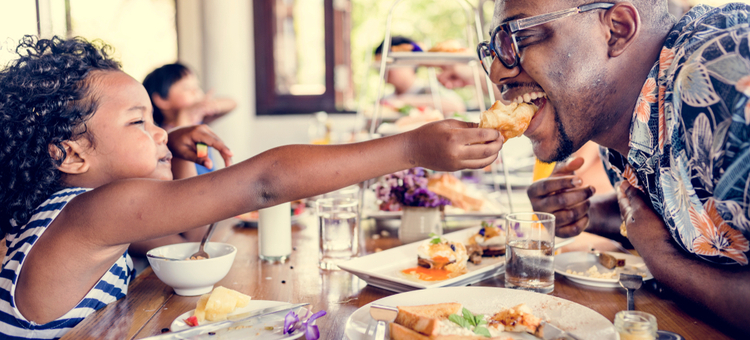 The kids are alright. Or, are they? The restaurant business can't make up its mind.
Some operations believe dining out should be a family affair; they're all about restaurant marketing to families. Others don't turn families with kids away (obviously), but they're not actively trying to attract them. In fact, only 26% of casual- and fine-dining restaurants offer a kid's menu.
To find out if it's worth marketing to families with kids, we asked restaurant owners and managers nationwide for their take. Most felt it was beneficial to their bottom line to offer menus, games, and events geared towards kids. Here are their opinions and recommendations for restaurant marketing to families.
"Bring the kids, they bring their parents."
-Chris Jimenez, Restaurant Consultant in South Florida
When Chris started working at McDonald's at the age of 15, he learned their philosophy for marketing to families. First, you need to appeal to the kids…the parents will follow. His advice echoes a recent study by Technomic that found 43% of millennial parents let their kids pick which restaurant to visit.
A parent himself, Chris explained that if a restaurant doesn't have a kid's menu, his family will choose another restaurant. He's always on the lookout for restaurants that are marketing to families like his.
"You've got to entertain the kids. Make mealtime fun. I've custom-made kid's menus which also serve as placements. The menu has a list of the meal options along with crossword puzzles and other activities, and we provide crayons," explained Chris.
After his stint at McDonald's, Chris went on to work at many sports bars in the South Florida area where he prioritized marketing to families. He always implemented a weekly "Kids Eat Free" day – typically on the slowest day – to boost foot traffic. The offer was that one child per parent could eat free as long as the parent purchased a meal.
Today, Chris is a restaurant consultant advising a variety of businesses throughout the country. He can be reached at 305-962-1057.
"In the winter when business is slow, we do Thursday family night. We've also created a hybrid kid-senior menu."
-Margaret W., restaurant owner in Casper, Wyoming
Margaret is big on marketing to families, but she does so in a strategic way that boosts her bottom line. In the winter, she runs a Thursday family night deal. For each dinner entrée ordered, one child gets anything off the kid's menu for free. She also believes strongly that all restaurants should offer a kid's menu – all year-round:
"Without a kid's menu, I'd have 3 kids splitting an entrée. Now the parents spend $5 per child, and the child is happier because they can make their own individual choice," said Margaret.
Not only does Margaret engage in marketing to families, she's also wants seniors to feel like they're getting a deal as well. In a creative twist, the kid's menu is also the senior menu with a few variations…most notably that the seniors get to keep the crust on the popular "kid's crustless" grilled cheese.
 "Do you need to focus on marketing to families? Absolutely!"
-Dave G., owner of Fia Rua Irish Pub, Richmond Hill, GA
Like Chris and Margaret, Dave is a big proponent of marketing to families. It starts with having a kid's menu (which in his case also doubles as an activity placement with Irish-themed mazes and images for coloring).
But Dave takes things one step further in restaurant marketing to families. He offers Buzztime restaurant tablets. When families (and all customers in general) arrive at Fia Rua Irish Pub, they're offered complimentary use of these handheld entertainment tablets.
Each tablet comes loaded with on-demand arcade games for all ages: from rally races to word finds, sports challenges to build-a-world games.
"When parents come in with kids who are antsy or bored, they're relieved when we offer them Buzztime tablets. The kids are happy, and the parents stay longer and spend more with us," explained Dave.
Exactly how much more revenue do these tablets generate? According to Dave, thousands of dollars each month. It's proof that marketing to families really pays off.
Plus, the Buzztime tablets can also connect patrons to a 24/7 nationwide trivia network. Customers use the tablets – or download the free Buzztime Entertainment app – to submit answers to trivia questions that appear on TV. Tablets and the app can even be used to run live trivia events, which Dave says "pack the house."
Want more ideas for marketing to families through entertainment and events? Check out these 13 family-friendly ideas for restaurants.
"Most kid's menus are unhealthy and insulting. So we offer kid sizes of dishes from our regular menu."
-Rick D., owner of two restaurants in Pleasanton, CA
You won't find fried chicken fingers and grilled cheese at the restaurants that Rick owns. Rick doesn't understand the logic of traditional marketing to families, that promotes what he believes is essentially junk food:
"You'll offer adults fresh, local, and organic food because you care about them. Then, you throw together fried, processed junk for the youngest customers that need healthy food the most!"
Of course, not everyone agrees with Rick's logic about marketing to families seeking healthy options for their children.
"The problem is that kids like fried food. If you don't offer it, families may not return. We are forced to ensure our kid's mac n' cheese is readily and plentifully available…kids love it," said Kevin E., owner of a restaurant in Ferndale, Michigan.
However, Rick's health-focused marketing to families may be the way of the future. The 2019 Mintel Menu Insights report found that 74% of parents agree that there are NOT enough healthy options on today's kid's menus.
In response, the National Restaurant Association is helping restaurants with marketing to families. They launched the Kids LiveWell program. Over 42,000 restaurant locations have committed to offering healthier kid's menu options.
You can start marketing to families by promoting new healthy menu options. No need to ditch all the "bad stuff," but it's worth including alternatives like grilled chicken sliders. In addition to fries, offer carrot sticks and guacamole. The Mintel report found that guacamole as a kid's menu offering is up 107% at restaurants nationwide.
It seems that there's a shift in the restaurant business. Despite the statistic mentioned earlier that ONLY 26% of fine- and casual-dining establishments offer kid's menus, more restaurants are jumping on the family bandwagon. They're marketing to families – and benefiting from an improved bottom line.