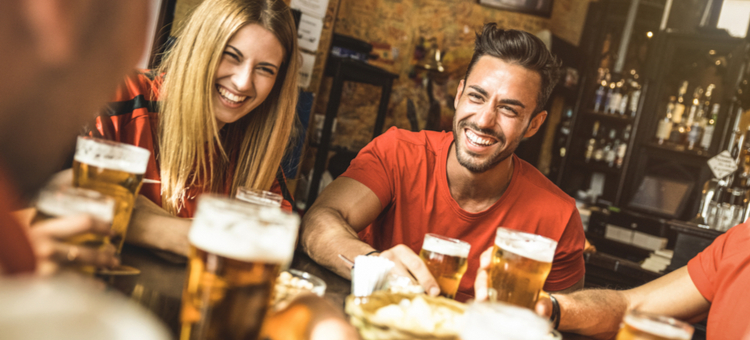 Yes, your TV can show more than sports and Grey's Anatomy reruns. (No offense to the Grey's fans out there.) The latest technology turns TVs into interactive gaming platforms. Customers can play trivia, compete in poker, and see their name in lights as they climb the leaderboard. Want in? The next step is deciding which company to use. That's why we're breaking down Tap TV vs Buzztime…
Q) Before diving into Tap TV vs Buzztime, give me a quick overview of each!
A) When it comes to Tap TV vs Buzztime, here's what they have in common: Both systems run off a central network that feeds entertainment content to screens and TVs nationwide. Another similarity? Trivia and poker run all day, every day.
Players can compete in real time against others across the room – or across the nation. It's social fun that creates a lively atmosphere. Games can only be played while people are in a participating venue, so it drives foot traffic into businesses that have it.
One more thing before the Tap TV vs Buzztime showdown: Whichever company you choose, it pays to offer on-demand entertainment at your venue. When Facebook asked 14,000+ people to describe businesses they love best, the first word was "quality" – followed by fun.
Q) What are some key differences in Tap TV vs Buzztime?
A) According to the Tap TV website, there are "hundreds" of locations nationwide running the network. Currently, there are over 2,700 venues carrying Buzztime. Size does matter in the Tap TV vs Buzztime comparison. If you want to bring in new customers, there are over 10 million registered Buzztime players looking for places to play. Buzztime also sends emails to players, alerting them of new locations, games, and sweepstakes. (No data on player base size could be located when researching Tap TV vs Buzztime.)
As its name suggests, Tap TV also includes "viral" videos and TV content while Buzztime does not. It's primarily extreme sports, and the content is almost exclusively geared towards millennial males. If you're seeking entertainment for all, Buzztime may come out on top when analyzing Tap TV vs Buzztime.
Buzztime may not have videos of skateboarders doing crazy flips, but it does have an entire arcade with games for all ages. Wait, what? If you're confused, the next Tap TV vs Buzztime question should clear things up.
Q) How do guests play Tap TV vs Buzztime?
A) Things are about to get really different as you explore Tap TV vs Buzztime. With Tap TV, players can only join trivia games by first downloading an app that lets them submit answers. Buzztime provides two ways to play: the Buzztime app as well as handheld tablets.
One of the main benefits of Buzztime when researching Tap TV vs Buzztime are these touchscreen tabletop tablets. On top of joining in trivia games, tablets give guests access to dozens of on-demand arcade games. Plus, if someone doesn't want another app on their phone, or their phone died (happens to the best of us), they can still play trivia.
While the focus of Tap TV vs Buzztime is entertainment, there's another thing these tabletop tablets can do: let guests order from a digital menu and securely pay. Check out these 8 benefits of customer-facing dining tech to see why tabletop tablets are taking off in bars and restaurants. Now, back to the games…
Q) Is it free for customers to play?
A) When it comes to Tap TV vs Buzztime, it's free to play trivia – and poker does not involve any actual betting. However, that's where the similarities end. Many venues like to run ongoing trivia tournaments as a way to bring in repeat business. It's free for Buzztime players to join in these tournaments, but there are entry fees for players who want to compete in Tap TV tournaments.
Q) Got, so it's free for players (mostly.) Don't make me search…what are Tap TV vs Buzztime costs?
A) This isn't really a Tap TV vs Buzztime answer because pricing was not available online for Tap TV. Buzztime starts at $149 – and you can check out this link for up-to-date Buzztime prices. There are usually monthly specials like free tablet offers or no-charge installation.
[fl_builder_insert_layout slug="whitepaper-signup-module-supreme-guide-live-events"]
Q) Tell me more about Tap TV vs Buzztime trivia tournaments…
A) The way trivia tournaments are played is completely different. Tap TV tournaments are not true live events. There isn't a host; it's more of a "solo" endeavor where players compete on the network.
On the flip side, when you subscribe to the Buzztime network, you can run as many live trivia events or tournaments as you like for no additional charge. Most venues run the event using their own staff as hosts. Players submit answers via the tablets, so the host can mix and mingle with guests – instead of hand scoring all night.
Known as "trivia night" or "pub quiz night," trivia events are one of the most popular events – especially at bars and restaurants. As you compare Tap TV vs Buzztime, think about your goals. If you want to host more live, social events, Buzztime may be the better choice.
Q) Does Buzztime or Tap TV run any special events or promotions as a company?
A) Yes, both do. Tap TV often runs giveaways for items like autographed albums or other music-related items. There are also frequent trivia tournaments hosted by Tap TV.
Buzztime runs regular tournaments as well, including the annual Smartest Bar Ultimate Trivia Showdown. Players at Buzztime locations compete on behalf of bars and restaurants to win the title, prizes, and a victory party. There is no fee to compete, which is important to note when examining Tap TV vs Buzztime. Buzztime also runs monthly sweepstakes and competitions, giving away up to $8,000 in prizes each month. With big prizes on the line, these promotions often attract both regular players and "newbies" to Buzztime locations.
Q) What about equipment needed for Tap TV vs Buzztime?
A) Equipment needs are minimal for both companies. Tap TV and Buzztime can be set up on your existing TVs and screens in most cases, so there's no need to purchase new ones. As you compare Tap TV vs Buzztime, there is a small cost for the tablets, but they're very durable and last for years. Charging units and protective cases are included. Buzztime-encased tablets have been tested to 100+ variables like spills and drops. Many Buzztime customers recoup the cost of tablets in a few months from the additional business generated by trivia, arcade games, and live events.
Q) Can Buzztime or Tap TV help with any other business needs?
A) Yes, marketing! One last Tap TV vs Buzztime comparison to review. Buzztime includes access to digital signage software and pre-designed templates. In a few clicks, you can customize an ad that promotes upcoming events, menu specials, employee of the month…anything. These ads show up on TV screens and the tabletop tablets. Tap TV does have an add-on digital signage for an additional fee.
Forget Tap TV vs Buzztime for a minute. No matter which company you decide on, it's a definite "win" to make every customer visit more exciting, social, and fun with on-screen entertainment. Cheers to changing the channel and tuning into success!