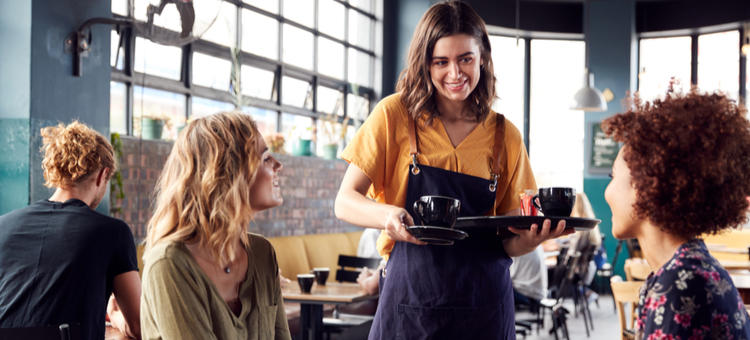 It's an age-old question in restaurant service. Which do customers prefer — a high-quality experience or speedy restaurant service? Spoiler alert: They want both. And with today's technology and our expert tips, you can provide stellar restaurant service that doubles down on quality and speed.
The Case for Quality
They just want to know… is the food good?
It's the main reason your customers are there. According to a 2017 Toast Technology Report, 58% of diners considered delicious food the top priority when choosing a restaurant. Quality of restaurant service came in second, so both are important for your staff to focus on during the guest experience.
To ensure that your food is standing out as much as your restaurant service, make sure that it's:
Fresh: Local and seasonal ingredients are a hot food trend in 2019 — so give the people what they want.
Consistent: Repeat customers expect their favorite dish to taste the same every visit. Set recipe standards for each menu item so guests get the same culinary experience every time.
Correct: Double check those tickets! Cooking a steak to the wrong temp or sending out a completely different dish means that it's going to be sent back — adding more time and lowering the quality of your restaurant service.
Was the restaurant service friendly?
Although food is in the number one spot, diners still have high expectations when it comes to restaurant service. And poor restaurant service could cost you customers. According to a MasterCard poll, 80% of restaurant complaints were focused on the low quality of service, not the product. And 23% of participants said they would never return to a restaurant with bad service. Yikes!
On the flip side, outstanding restaurant service could actually increase your bottom line. A recent American Express study stated that U.S. consumers were open to spending 17% more with companies that provided excellent customer service.
Did your atmosphere wow your guests?
When dining out, millennials expect more than a meal — they want an experience. A whopping 78% of millennials stated they would rather spend money on an experience than a product. And since they now make up over a fourth of the U.S. population, that's a pretty good-sized market to cater to.

Quality restaurant service is definitely one factor that improves your atmosphere. Here are some ideas on different experiences you can provide (and how your restaurant service can enhance them):
Intimate date night: Along with the white linens, ambient noise, and candlelight, your restaurant service should be subdued. Wait for breaks in the conversation before refilling drinks or asking to take orders.
Fun group events: In a recent Facebook Loyalty Study, adults described the businesses they liked best. 'Quality' was the number one word used, followed by (drumroll) FUN! In addition to game nights, sporting events, and interactive promos, encourage your staff to participate and joke around with guests to help them keep the good times rolling.
Friendly Family Gathering: Give mom and dad a break with helpful restaurant service that focuses on the kids. Offer tableside arcade games and entertain the kids so parents can enjoy a quiet(er) meal.
[fl_builder_insert_layout slug="whitepaper-signup-module-get-more-customers"]
The Case for Speed
How long was the wait?
Unless you're a quick-service restaurant, guests expect at least a little bit of waiting period when they arrive. At the very least, they know it may take a minute to prepare their food. However, if you keep them waiting too long, it could be a bad look for your restaurant service.
According to a recent study, the average wait time for restaurants is 23 minutes. But, almost a third of restaurant parties are waiting over 30 minutes to be seated. If the restaurant is busy, guests may be a little more lenient with waiting. But if you have an empty dining room and ticket times are taking over half an hour, you need to evaluate your restaurant service efficiency.
By the way, those tableside arcade games can come in handy here – turning wait time into play time for everyone at the table.
When did the entrees come out?
Restaurant service isn't just about speed — it's also about timing.
The order of food delivery is such a simple part of restaurant service, but it makes a big impact. If you bring out entrees before an appetizer, it signals that there's an issue with your kitchen or that the guest's ticket item may have gotten lost.
Or, if entrees were delivered while guests are still on the appetizer course, you run the risk of the dish getting cold before your customers are ready to eat it. Neither scenario implies quality restaurant service, so it's important that you work with your staff to strike the right wait time between each course.
Did customers get their check on time?
Offering the check is a tricky balancing act, but it's important to get right if you want to provide efficient restaurant service. You don't want customers waiting too long for their check but you also don't want them to feel rushed out. So, what's a server to do?
Well, the answer is simple — ask! Whenever you whisk away the last plates of the meal, give your customers a few more minutes to finish their cocktails or coffee if they still have any.
Then, during your next check-in, ask if they would like anything else for the evening. If they respond no, that's your open to offer them the check.
It's a seamless transition that anticipates their next immediate need (which would be to leave) without seeming like you're eager to turn over their table. Awkward moment avoided!
If those customers still won't leave? Turn to these 9 tips for handling "campers."
BONUS: Tips to Improve Restaurant Service Quality and Speed
We've established that quality and speed are both equally important to providing awesome restaurant service. So, here are some easy tips to deliver both for every guest:
Proper Training for Your Staff: Your staff is your secret weapon for fast and friendly restaurant service. And proper training can go a long way to helping them provide a guest experience that'll keep customers coming back for more. Put a standard training process in place for new hires that teach them everything they need to know about your restaurant standards, processes, and menu.
Fun Ways for Guests to Pass the Time: Wait times in restaurants are inevitable, but they can still be fun! Offering games like trivia on handheld tablets that guests can take with them from the waiting area to the bar to their table helps the wait times fly by.
Regular Evaluations of your Team: Keep your team on their toes (and best behavior) with randomly schedule restaurant service evaluations. Using a secret shopper or guest surveys, learn more about your guest experience and look for ways you can improve. And be sure to reward your staff for rock star restaurant service or rave reviews!
Knowing your guests: Who doesn't love the royal treatment when dining out? According to an Open Table Diner Survey, more than half of customers said they wanted restaurants to remember their names and drinks. Give your guests the celebrity treatment and make an effort to remember the little details by keeping notes so you're prepared for their next visit. Bonus points if you go the extra mile and offer a customized experience to your guests — 95% said they'd most likely return to a restaurant that tailored to their dining preferences.
Technology that Streamlines Restaurant Service: The right tech, like handheld ordering tablets, can help restaurant service move more efficiently by letting servers place orders right at the table — ensuring that every order and customization is correct. Worried that robotics may take away from the human experience? Don't be — customers want to see more tech when they're dining out. According to the 2017 Toast Technology Report, almost two-thirds (73%) of diners say that technology improves their guest experience. And owners agree, with 95% stating that tech improves restaurant service efficiency.
So there you go: When it comes to quality vs. speed in restaurant service, it's a total tie. Rather than focus on one or the other, find ways to incorporate both for every restaurant service. It'll enhance your guest experience and leave your customers smiling after every meal.