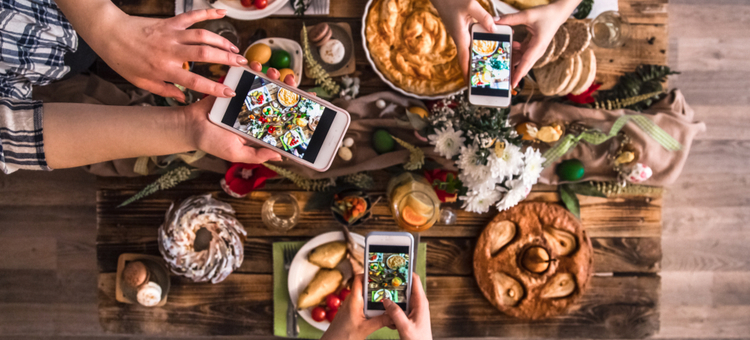 To increase food sales, you've got options. The easy way out is to mark up your menu, raising prices by a set percentage. You could also ask your distributor to source more affordable options for menu items – and explore portion reductions.
These strategies come with risks. Customers might flinch at increased prices, and they'll definitely notice a drop in quality or portions. Instead, focus on better meeting the needs of your customers. It's a win-win way to increase food sales, and make 'em happy along the way…
Milly the Millennial, Age 29
Meet Milly. Yes, she's a millennial. But before you start judging her based on her love of selfies, realize that winning her over is key to increase food sales at your restaurant. Why? Because Milly and others in her age bracket dine out about 5 times per week, more than any other generation.
So, what does it take to increase food sales with a customer like Milly? Start by assessing your restaurant's Instagram-ability using these insider tips from Ford Media Lab. Is there a menu item or something in your interior or exterior worth sharing on social media? It could be as simple as creating a colorful dessert, like "rainbow ice cream." Serve small scoops of ice cream or sherbet on a long rectangular plate, arranged in rainbow order. You should increase food sales in no time. After all, millennials have a thing for rainbows – and unicorns – as evidenced by the viral sensation that was the Starbucks Unicorn Frappuccino.
Speaking of Instagram, it's also a common millennial behavior to go to Sunday brunch – and post it all over the 'Gram. To increase food sales with millennials, consider hosting a Sunday brunch. The brunch and blues concept is seriously popular right now. Of course, put Instagram-worthy items on your menu to increase food sales and your social media appeal. On your menu, include: ombre pancakes, a DIY Bloody Mary bar with everything from gourmet bacon to house-made pickles, and of course…mimosas.
Ava the Average Kiddo, Age 11
Next up, say hello to Ava. Believe it or not, she's the one calling the shots when it comes to dining out. Technomic's recent Generational Report found that 43% of parents let their kids choose the restaurant.
If you want to increase food sales with families, get on Ava's good side. Easy, you think, I'll pack my menu full of kid-friendly fried delights like chicken tenders. Not so fast.
Ava and her sophisticated crew regularly watch cooking shows on YouTube. The same Technomic report revealed that 36% of parents of kids under 18 say their children have "adventurous" tastes including a penchant for Indian, Middle Eastern, and African cuisines.
Increase food sales by adding in far-out flavor profiles as sides or sauces, and see what happens. For example, keep the chicken nuggets on the menu but offer a trio of international sauces.
Another way to appeal to Ava (and increase food sales along the way)? Put fun on the menu. Join thousands of businesses that offer handheld restaurant tablets loaded with complimentary games and trivia for all ages. Remember, Ava gets to choose where to dine. You can bet "fun" is one of her requirements…
Betsy the Business Luncher, Age 45
Now, say hello to Betsy. She's the CEO of a local insurance agency and regularly takes prospective clients out to lunch. To increase food sales with Betsy and the business lunch crowd, boss up and get smart with these tips.
Most business lunchers are also time crunchers, and will avoid places that take too long. To increase food sales for busy folks like Betsy, be up front and even promote how long you can get people in and out during the lunchtime rush. For example, Boston's Pizza Restaurant and Sports Bar promises lunch in 20 minutes, or its free.
By the way, Betsy doesn't go out to lunch all the time. Every Tuesday, she orders catered food for her employees (what a nice boss). But here's the catch: Betsy's secretary only orders from restaurants that offer online ordering. Her secretary is like 92% of those who prefer placing orders for large groups online, according to a Fast Casual Study. To increase food sales to-go, you must offer online ordering.
Finally, Betsy wants to start holding lunch and learn sessions for prospective clients. She's looking for a local restaurant that has a meeting room, fast wi-fi, and a prix fixe menu so she can stay on budget. Use these 10 tips for building a lunchtime catering business that helps you increase food sales and grow your customer base.
[fl_builder_insert_layout slug="whitepaper-signup-module-33-customer-loyalty"]
Roger the Regular, Age 56
Roger is the unsung hero in your quest to increase food sales. He's been coming to your restaurant since day one! Roger, and those like him, often have go-to menu items they stick to. Your challenge is to gently upsell regulars like Roger to boost your revenue, while exposing him to other menu items.
Upselling doesn't have to be sleazy, but it does require preparedness and practice on the part of your waitstaff. Upselling can – and should be – learned by everyone on your team. Start by reviewing some basic strategies.
To increase food sales, servers should suggest add-ons and upgrades. An example would be swapping sweet potato fries instead of regular fries for an extra $2. When suggesting this option, the server should include the word "because" and also get descriptive: 
"I think you might like the sweet potato fries because they come with our new house-made chipotle-maple BBQ dipping sauce."
Here's how this simple phrase can increase food sales. First, Harvard research revealed that simply using the word "because" increases the odds someone will say yes to the request by 93%. Without "because"? Only 60% will say yes.
The other upselling tactic that will increase food sales is using vivid menu item descriptions, like saying "house-made chipotle maple BBQ sauce" instead of just BBQ sauce. University of Illinois researchers found that sales of vividly described items increased by 27%!
Vince the Vegan, Age 36 (and His Girlfriend Kate, the Keto Dieter)
Last but not least, if you really want to increase food sales, it's time to accommodate those with dietary preferences or restrictions. That includes the vegetarian, vegan, and gluten-free diner. If you want to go above and beyond, you could even add menu options for those following diets like the uber-popular keto and paleo plans.
The key to increase food sales using this method is to do your research, and then create great-tasting menu options for each dietary lifestyle. Let's consider vegans. First, don't offer flavorless, frozen veggie burgers and call it a day! Instead, make your own veggie burgers, which you can promote as house-made, justifying a higher margin (and they'll taste good).
Or, bring in the trendy Impossible Burger™ which is 100% vegan. But if you make your own veggie burgers, beware: vegans do not eat dairy, so don't cook that burger in butter or top it with cheese. If you focus on flavor, you may increase food sales with non-vegans. In fact, 50% of all consumers opt for meatless options at least once a month!
The ultimate tactic to increase food sales with your customers is this: take time to understand how you could better serve their needs. This will differ depending on the type of customer. Millennials may want more social experiences, so plan more event…like a farm-to-table dinner and retro-cool square dance. The business lunch crowd is hungry for convenience, could you offer online ordering and menus for big groups? By super-serving your customers, food sales will increase automatically – and in an authentic way. It's a win-win.