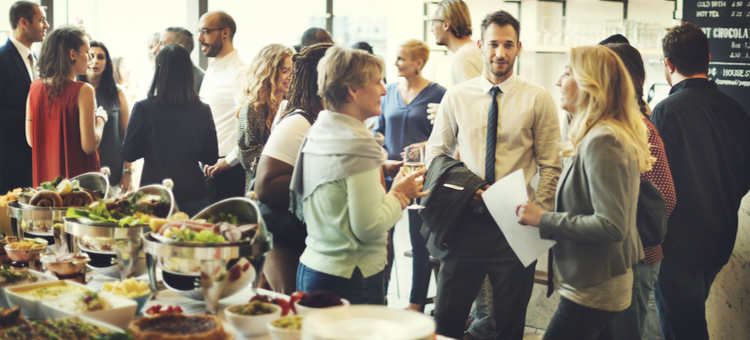 It's time to boss up and take your catering game to the next level. Start by focusing on the business lunch crowd, where executives are happy to shell out serious cash for a catered affair. Need proof? Catersource Magazine surveyed 110 caterers and restaurants to find that their biggest revenue growth in 2017 came from corporate catering. Use these 10 secrets for catering business lunches…like a boss.
Let's Make a Deal: Catering Business Lunches for Clients
Whether a company wants to pitch a new client over lunch or treat existing customers like VIPs, your restaurant can be their hero. Here's how to serve up seriously awesome food (and service to match).
1) Package Makes Perfect
When it comes to catering business lunches, how you package and portion food is critical. Here are 3 ways to approach meal prep:
Individual Meals: Will you let customers order straight off the menu? If so, clearly label each meal so the host doesn't have to open each food container to guess. Consider bagging each meal separately and include disposable silverware, a wet nap, a mint, and most importantly – a coupon good for a visit to your restaurant.
Buffet Style: Another option is catering business lunches in a buffet or "family" style. You provide large trays of salads, pasta, or sandwiches – and let guests build their plate. Use containers with clear plastic lids so food stays fresh but is always on display.
DIY Kits: Instead of pre-made sandwiches, provide a box of sandwich meats, cheese, and rolls – and let customers build their own. A little creativity goes a long way when catering business lunches. Why not offer build-your-own taco kits, pasta stations, or any other customizable option?
2) Online Ordering for the Win
When catering business lunches, stay focused on the user experience: how can you make it faster and easier for customers? Start with online ordering.
A study by Fast Casual revealed that 92% of those making orders for big groups prefer placing orders online. That way, they can check orders for accuracy before pressing "send." Online ordering also benefits your operation. You'll free up staff from taking 10-minute orders over the phone (which may or may not be accurate!).
3) To GrubHub or Not to GrubHub
Once someone has placed their lunch order, how will you get their food to them? You've got 3 options:
Third Party Aggregators: Like GrubHub
Yes, you and your clients will be charged for orders placed through a 3rd party aggregator like GrubHub or DoorDash. And catering business lunches isn't their area of expertise. Still, these options should suffice if you're sending out smaller orders. As an added bonus, GrubHub claims restaurants see a 50% increase in monthly orders after a year
Third Party Delivery Companies
If you aren't ready to spring for your own delivery team when catering business lunches, outsource delivery. Turn to a company like www.Caviar.com if it's available in your area.
Your Own Drivers
This may be your best bet if catering business lunches is a priority. You can train your drivers to go in, set up food a certain way, a provide a friendly face to your corporate clients. Interestingly, 30% of guests who use GrubHub and UberEats actually prefer ordering directly from the restaurant, according to Mintel Research. They believe restaurant-managed delivery arrives faster, costs less, and is of a higher quality.
Trend Alert: Catering Business Lunches for Employees
Yes, there IS such a thing as a free lunch. At least that's the case for employees at Facebook, Google, and other tech giants. They're catering business lunches using in-house staff, which is causing controversy in cities like San Francisco where a free-lunch ban is on the table. Why? Because it's hurting local restaurants when the workface stays at work for lunch.
But everyone wins when nearby restaurants are the ones catering business lunches for employees! That's where your restaurant comes in…
4) Launch an Employee Lunch Program: Free Lunch Fridays
It's not just Fortune 500 names getting it on the free-lunch revolution. Startups and to small- and mid-size established companies are catering business lunches for employees and seeing an impressive ROI: from healthier, happier employees to improved recruitment and retention.
Create a sell-sheet outlining the benefits of free lunch for employees. Then, set up a program for catering business lunches for staff on "Free Lunch Fridays."
[fl_builder_insert_layout slug="whitepaper-signup-module-66-promotions-to-drive-sales"]
Out to Lunch: Catering Business Lunches On Premises
Catering business lunches off site isn't the only way to rock your lunchtime revenue. Here's how bring those lunchtime meetings and new client pitches to your place.
5) Get a Room…Or Not
Many restaurants have a private room for catering business lunches and events. Is it time for a décor upgrade? Corporate execs want to impress clients or employees. So, wallpaper with a 1980s vibe and red carpeting are red flags. For makeover inspiration, check out these private dining rooms in Nashville.
Don't have the space? No problem. Use moveable partitions to create a separate area for catered events.
6) Let's Talk Tech
Want to woo corporate clients? Gear up with the latest tech. Having up-to-date digital equipment topped Benchmark Hospitality's list of 2018 meeting trends. Here's your shopping list for catering business lunches with a side of tech:
Free + Fast Wi-Fi: Whether it's streaming video or checking email, the business crowd won't tolerate slow (or no) wireless. Work with a local IT company to set up a strong wireless connection – even if you're catering business lunches in a room with brick walls. It starts with a well-placed router and will likely involve wireless repeaters (aka wireless extenders).
Menu Tablets: Catering business lunches just got easier for you, and your customers. Offer menu tablets to meeting attendees. They can browse a digital version of your menu and send orders straight to the kitchen. When it's time to pay? Patrons insert their credit cards into EMV (chip) card readers right on the menu tablets.
Screen Scene: BYOP (bring your own projector) just isn't cool. Don't make corporate clients lug their own equipment. Hook 'em up with a projector and screen – you can get a set for about $250 on Amazon. Or, at least offer a large flat screen TV with an HDMI port and cable so they can plug in their laptop.
Bonus Tip: When that flat screen TV isn't in use for catering business lunches, you can use digital signage software to promote your menu items, events, and specials. Digital signage software is included when you bring in menu tablets.
7) Exclusive Offerings
Go the extra mile when catering business lunches, without breaking the bank. Personal extras and little perks can win over new corporate clients.
Entertainment on Tap: Help a client bond with their team or a new prospect by offering entertainment – interactive trivia and arcade games – on restaurant tablets. Companies are always on the look out for new teambuilding exercises, and these restaurant tablets can even be used to run live trivia games (no outside host needed).
Personal Paparazzi: One of your servers would love the excuse to use their smartphone on the job. So put the most photographically gifted one in charge of taking a few photos as you're catering business lunches. You can then send these photos to the client or use them in marketing efforts (with their permission of course).
So, You're Catering Business Lunches…Now Market It!
The golden rule of growing your catering business? Market to the decision makers. Typically, the receptionist or office manager decides whether or not you'll be catering businesses lunches at their company. If you're cold calling local businesses, be extra polite to the person who answers the phone.
8) Triers Turn into Buyers
An office manager is more likely to recommend that your restaurant starts catering business lunches if they've tasted your food! So, give decision makers a free food sample or gift card to try lunch at your restaurant. That was the top suggestion made by those in charge of selecting caterers during a panel discussion at Technomic's Restaurant Trends and Directions Conference in Chicago.
9) Show Love with Kick Backs
Promote your catering services by offering a reward for the host (or whomever calls in the order). It could be a small gift card. Or, sweeten the deal with a slice of cake or dessert just for the receptionist or office manager.
10) Unlock the Power of LinkedIn
Planning promotions for catering business lunches? Turn to LinkedIn. You can go guerilla and search for office managers in your area. Then, send a friendly message about catering business lunches along with a request to join the person's network. Be prepared for a bit of rejection: this is like cold calling and people may be reticent to accept a LinkedIn request or message from someone they don't know.
The other option is paid LinkedIn advertising. You can send "Sponsored InMail" which increases the chances that your message about catering business lunches is received. You can also run targeted ads that show up in the LinkedIn newsfeed.
Now that you have 10 pro tips for catering business lunches, you're ready to show the competition who's boss. Cheers to a successful catering venture!